Painting Sunset Winter Mountain, Taos Pueblo
Trail of Painted Ponies
"Taos Neigh~bors"
Valerie Graves, Taos Artist (www.TaosArtist.com)


After painting the sky and clouds on the horse's head and neck,
the artist takes a break and explains to the dog
what this large creature is doing in her studio!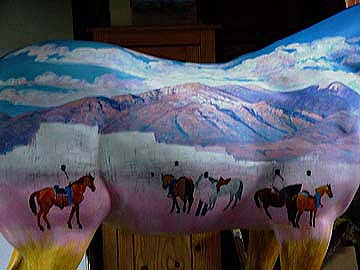 Sunset at Taos Pueblo is begun, after finishing the sky and clouds.
The artist paints a mixed rosy undercoat, the glow of sunset which shines through in
highlights througout most of the Taos Pueblo side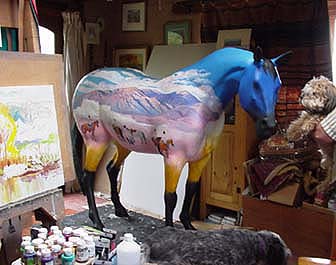 FOLLOW THE TRAIL OF CREATION of "Taos Neigh~bors"
Return To Beginning To Paint..............Go to PaintingTaos Pueblo!
Follow The Trail of Creation of " Taos Neigh~bors"
The Small Horse (Maquette)
Stage 1 - Gesso!
Beginning To Paint!
Painting Sunset Winter Mountain
Painting Taos Pueblo
Painting the Summer Side
Final Stages
Meeting Real Horses!
Inn at Loretto, Governor & Mrs. King and The Taos Inn


Return to Valerie Graves Main Page

©2001-2007 by Valerie Graves